x
The Real Lives of Volunteer Coordinators
A Blog for us to Learn from Each Other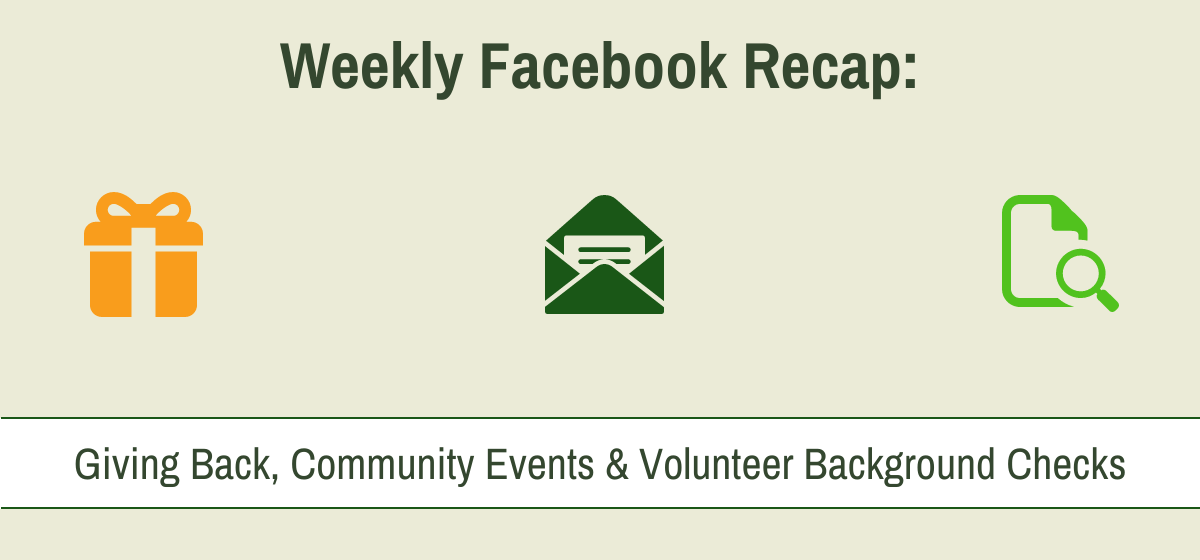 Recap for January 10th - January 21st
Thank you to everyone who contributed to the Facebook community this past week!
Giving Back to Your Volunteers
We get a lot of questions in the Facebook group looking for feedback on volunteer appreciation and new and well-received ways to 'give back' to your volunteers. With a small group of volunteers, some traditional appreciation events like awards or ceremonies may not be ideal. Instead, smaller gestures that can be shared with the whole group are a good idea. See what our community has to say on the subject!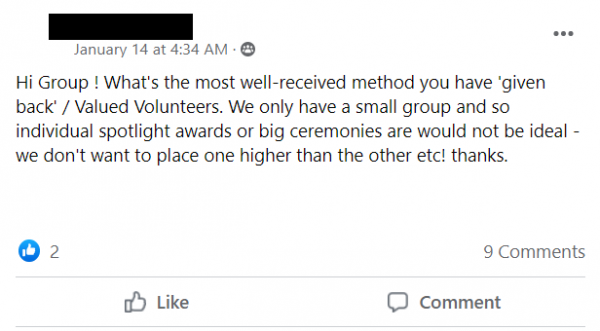 Comments from the group
"Sharing photos of volunteers in action then writing a description of service. Send it out to all or if it's an in person event, print it out and make a spotlight table featuring all. It becomes very interactive to read and see the stories"

"We do a random drawing for a volunteer spotlight each month, and they get a gift card. Just need to submit any hour for the previous month to be entered. We've had good feedback! And I feel I've seen an increase in hours submitted"

"Have an event for them and the clients they serve, focus on the fellowship, share the impact they have made as a group"
Check out all of the Facebook comments here!
Community Events
Some organizations host community events, not just volunteer-specific events. If you're looking for a more efficient way to send invites and collect RSVPs than just a mailed invitation or a phone call, you might want to use a third-party software. Our community has some suggestions for what to use, and so do we!
Comments and resources
"I have used Evite for events and it seems to work well. There are always those I have to reach out to by regular email or phone call because it might go to junk or they don't read it. I'd be interested to find out what type of events you do"

"My church South Hills Burbank has used Signup.com and Sign Up Genius. They are both effective in my opinion!"

If you are looking to host a volunteer event, volunteer tracking software like Track it Forward has a built-in option to create an event calendar! However, if you're looking to host a community event, you may want to consider e-invite companies like Paperless Post, which has a free event option for up to 50 guests.
Volunteer Background Checks
There are some cases in which you may need to require background checks for volunteers who may be working in more sensitive situations. But how do you go about implementing an affordable solution? Track it Forward has an article on this topic, and our volunteer coordinator community has some suggestions as well.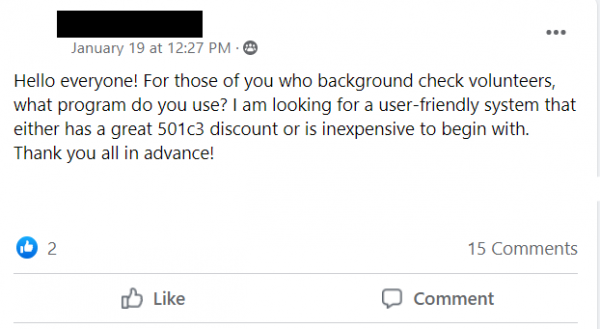 Comments and resources
"I just started using Verified First and I really like it!"



"I use the [state] Public Records website, it's completely free

"


Several community members also suggested Sterling