City, County and State Parks Track Volunteer Hours
Data Collection
Collect the right type of data necessary for reports
Volunteer Empowerment
Encourage volunteers to maximize their time by helping the community
Community Impact
Quantify how much impact your organization creates with volunteers
How Georgia State Parks Tracks Campground Host Hours

Rachael Holland has worked in the volunteer department of the Georgia Parks, Recreation, and Historic Sites Division since 2017. She works as a volunteer coordinator for all 63 Georgia State Parks and interacts with over 6,8000 volunteers each year! The department hosts a variety of volunteers: one time individual volunteers, large groups from companies, and repeat volunteers who are campground hosts. She uses many internal tools and some great communication to make all this coordination possible, but when it comes to managing the campground hosts, Track it Forward is the tool of choice.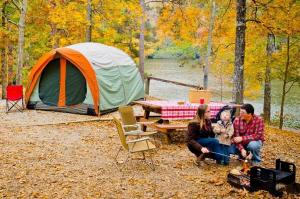 The campground hosts are a crucial part of maintaining the campgrounds in Georgia. They are allowed to stay at the camping spot for free with their RVs as long as they volunteer 24 hours a week. In the beginning, the department was collecting hours with Google Forms, but they had to spend hours cleaning up all the submissions, and it quickly became an administrative hassle.
Recently retired volunteer coordinator Nyleta Wallace initially implemented Track it Forward to save time, run reports, and track volunteer hours toward incentives. "Track it Forward enabled me to streamline my processes," she said. It's important for the Georgia Department of Natural resources to track hours for several reasons. One major reason is to show the state the value of parks volunteers. "I take all of the hours for one fiscal year, and we have it approved through the commissioner as a price [per hour] if we were to pay all these volunteers…last year we saved $4.3 million for the state." Rachael says.
Tracking Hours toward Milestones
In addition to the minimum requirement of 24 hours per week, campground hosts are provided with incentives for going above and beyond. "We give them points on a parks rewards card that is already [in place] at our parks," Rachael explains. "They can use these points toward free camping in between hosting assignments, or they can save up their points to rent out a cabin or a yurt." 1,000 hours is equal to 15,000 points, which translates to five nights of free camping in the parks. "What we used to do is send out camping passes on printer paper," Rachael says. "But we had no accountability…we didn't know who was using them and when." She's found that these incentives have improved hours tracking among the campground hosts.
The milestones feature in Track it Forward allows for easy tracking of who has earned rewards points. They are set up in 500 hour increments all the way up to 10,000, which a few campground hosts have reached after volunteering with them for over a decade.
The mobile app is another important feature for the department. "They love to be on the app, logging their hours and seeing [how far away] they are from 1,000," Rachael says. "They use the app more, especially because they don't have wifi in the campgrounds so sometimes it is easier to pick up on cell towers." Now with the new Offline Mode feature, campground hosts won't have to worry about having service at all to log their hours!
If you are interested in learning about more of the great work Rachael and her team are doing at Georgia State Parks, go to http://gastateparks.org/volunteer/hosts.
Do you work for a Parks Department that makes great use of volunteers?
Learn how Track it Forward can help!
Yes, Tell Me More