Efficient Time Tracking for Volunteer Programs
Track it Forward offers simple, efficient volunteer time tracking software for nonprofits and other organizations with volunteer programs. Organizations can track and report on hours from anywhere with an easy-to-use web interface and mobile app.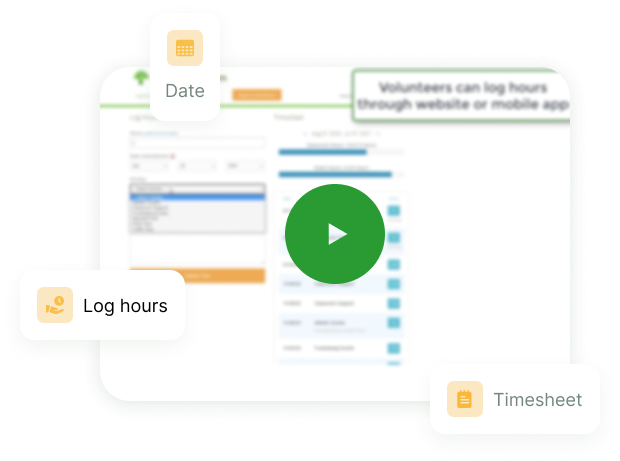 Why Choose Track it Forward?
Track it Forward can streamline your volunteer program with easy-to-use time tracking. Track progress toward milestones, communicate with volunteers, and pull custom reports all from the organizer dashboard.
User-friendly for volunteers and administrators
Log hours anywhere with the mobile app
Volunteers can track and view their own progress
Create events and collect RSVPs
Send mass texts and emails to volunteers
Approve hours and pull custom reports


How Track it Forward Can Help You
Track it Forward can help streamline your volunteer time tracking process.
1. Volunteers Log Their Own Hours
Volunteers can log hours in a variety of ways: online, through the mobile app, via event sign-in sheet, a self check-in kiosk, or an embeddable widget on your website! Choose the options that work best for your organization's workflow.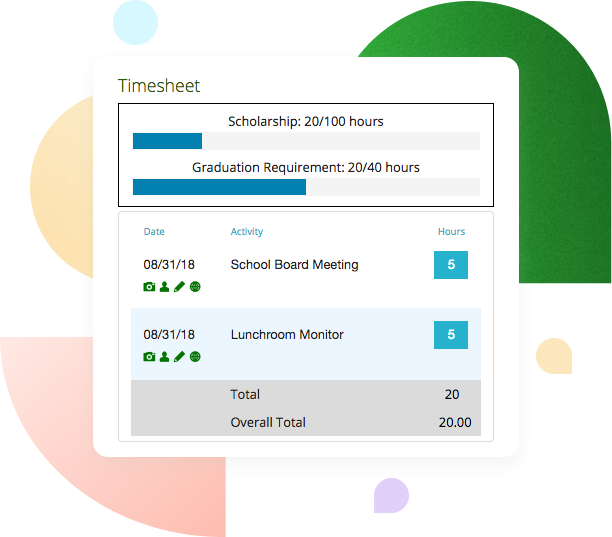 2. Volunteers Monitor Their Own Progress
Volunteers can log into their account to view a dashboard where they can see their progress toward any milestones or goals, log hours, view past hours, and download a service resume.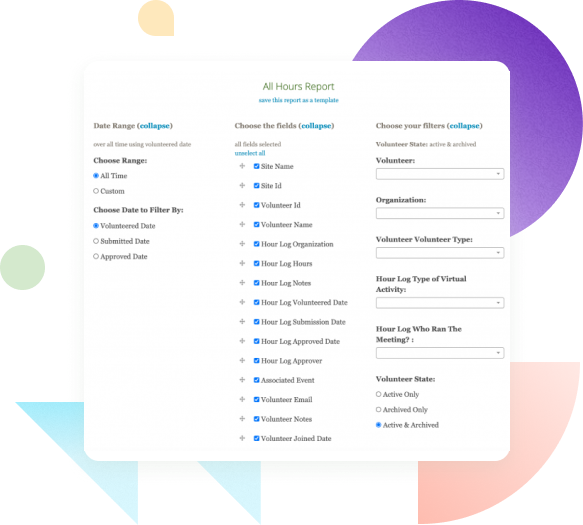 3. Create Tailored Reports
Once volunteers log their time, administrators can pull custom reports. Download reports to see how many people volunteered last month, or how many volunteers have reached a certain milestone. You can even separate volunteer hours into categories to see what type of volunteer activities are the most popular. Choose the filters for information you'd like to see in a report, and download instantly.
4. Organize Events and Collect RSVPs
Use the calendar to plan volunteer events and shifts. List event details and how many volunteers are needed. Volunteers RSVP and automatically receive event reminders. Send event updates via email or text. Use the digital sign-in sheet to check in volunteers at the event, and afterward their hours are automatically logged.
Try Track it Forward for free
Start a commitment-free trial to see how easy it is to use for your organization!
Our Features
Track it Forward is more than a time tracker, we have optional features to advance your volunteer tracking system as a whole. Choose how detailed you want your volunteer tracking to be!
Set custom hours requirements or goals. Volunteers can view their progress on their own dashboard without contacting an administrator.
Use the check-in kiosk app on a tablet or laptop for volunteers to easily sign in and sign out onsite! Afterward, hours can be automatically logged.
Assign approvers for volunteer hours, and choose to verify those hours with additional data such as a selfie/photo, GPS location, or signature.
Collect RSVPs for events and automatically log hours when you check in volunteers using a digital sign-in sheet.
Volunteers can log hours anywhere using the mobile app, which has an offline mode feature for volunteers working in the field who might not have access to cell service.
Set up custom fields with conditional logic on the hours log, so only certain types of volunteers or those who complete certain activities will have access to additional questions and fields.
Over 6 Million Volunteer Hours Submitted
Track it Forward is absolutely the best way to keep track of volunteer hours! Volunteers can easily record their volunteer time and also which category of service is involved. Moreover, categories and time increments are easily customizable. Fairfax Tree Stewards
Read the Reviews
Start a free trial today
See how you can quickly and easily streamline your volunteer program! Try it free for 30 days - no credit card required.
Pricing Plans
Pricing is based on the number of volunteers and different features. We also offer custom group plans for organizations with multiple locations. For more info on group pricing, contact support!
Get started for free
Stop hesitating and make your life easier with Track it Forward! Just click the button below to start a free trial.