About
In 2009, the once beautiful Morcom Rose Garden in Oakland, California needed help: weeds overgrew, ponds stagnated, and roses withered on their stems. The city of Oakland, local businesses, and the community came together and started a volunteer recognition hoping more people would join restoring the park. If volunteers helped out more than 25 hours they were given pruning sheers, and if they volunteered over 100 hours, they were given a custom made deadheading t-shirt. Two tech-savy rose garden volunteers, Anca and James, loved the idea and built an online and mobile system so volunteers could track hours, receive these awards, and also gain a social status built of volunteerism. This system became Track it Forward, Our Volunteer On-Line Tracking System.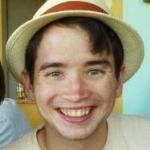 James McBryan began volunteering as a Boy Scout and the slogan of "Do a Good Turn Daily" became his life motto. At UC Berkeley, James organized service trips for his dorms, started a still-thriving dance community, and facilated moral-discussion psychology class. After graduating from UC Berkeley with an Electrical Engineering and Computer Science degree, he lead over 40 engineers and teachers down to Honduras through Engineers without Borders 5 different times to bring internet to rural schools. In 2011, James became TapRoot Foundation's First Pro Bono Role Model of the Year.
James loves empowering volunteer organizers through technology to reach their organization's mission. A more efficient volunteer organizer means more efficient volunteers which means more impact that volunteers create and thus the better the world becomes. That's what gets James up in the morning and that's why he spends so much time on Track it Forward.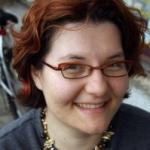 Anca Mosoiu's vision for a world of accessible technology tools compelled her to create the Tech Liminal principles and workshop. Anca has worked in the business applications industry for more than 15 years in roles ranging from analyst to software engineer, in environments varying from start-ups to established corporations. After graduating from MIT with a computer science degree, she returned to her hometown of Oakland at the right time to participate in the Silicon Valley high-tech boom. In those years everything seemed "and most things were" possible. The optimism of the period stuck.
Anca has great optimism for the future. "To me the information age is like being at the beginning of the industrial age" so much opportunity. But opportunity is restricted to those who have knowledge and resources. By putting the pieces together explaining Twitter, for example "you start leveling the playing field."