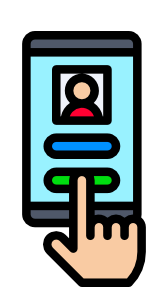 Streamlined Volunteer Check In Process
Eliminate additional administrative work with instantly verified event check-ins and automated hour tracking
Sign Up for Exclusive Beta Testing
Check-in volunteers how you'd like
Each organization has their preferences and we're not going to limit that. Allow pre-registered volunteers to check themselves into the event, or have a friendly person greeting them for check-in. The choice is yours!
New volunteers can register on the spot
Did someone show up to volunteer without an RSVP? No problem. Quickly add new volunteers to the system that didn't register for your event and get them checked-in just as fast.
Automatic reminders to save you time
Once a volunteer checks-out after their event, they will receive a email confirmation with the number of hours worked. If a volunteer forgets to check-out, they will recieve an email after 24 hours reminding them to log out and correct their timer.
Multiple stations to speed up volunteer check-in
No more waiting in long lines to check in at events. Set up as many check in stations as you'd like, whether its on a computer screen, a kiosk, or the volunteer's sign in app, and eliminate the wait!
Hours are automatically submitted to volunteer's timesheet
When volunteer's sign out, their hours can be automatically submitted into their timesheet. If an organizer prefers to do it themself, they can also bulk verify & check-out all the volunteers at the end of the event.
Join our team of early adopters
If you don't want to wait, we'd love to have you join our exclusive beta program to perfect the new features