x
The Real Lives of Volunteer Coordinators
A Blog for us to Learn from Each Other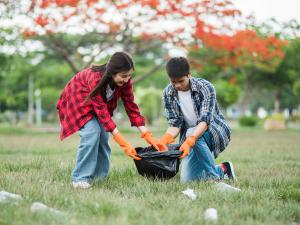 Many public and private schools require students to complete community service in order to graduate. But how are schools keeping track of all these hours? Some schools may provide students with volunteer opportunities, while others take a more hands-off approach and require students to complete hours and obtain the verification themselves.
One tool that can make this process easier and more efficient is school community service software. Just like there are various ways to incorporate community service into the school curriculum, there are many types of school volunteer software to choose from.
This guide will explain the difference in school community service programs and provide an overview of the top school volunteer software for the 2022 school year.
Community Service Requirements vs. Service Learning Programs
There are different ways to incorporate community service into the curriculum and these can have different impacts and benefits. Community service requirements for graduation are not always integrated into the curriculum, classwork, and student learning experience. Graduation requirements can just be a total number of volunteer hours that high school students must complete prior to graduating. These hours are often completed outside of school and are completely separate. In these cases, students are often required to find their own volunteering opportunities and record their hours and obtain proof of hours completion to submit to the school.
Service learning programs, on the other hand, incorporate the volunteering experience into the curriculum and student learning outcomes. Edutopia has come up with a relatable definition of service learning: "In service learning, students learn educational standards through tackling real-life problems in their community."
With service learning, community service can be incorporated into the classroom through classwide service projects or civic engagement units that help students find a specific community service project.
For ideas on ways to incorporate service learning in the classroom, check out our article "Criteria of Successful Service Learning Programs".
Top 5 School Community Service Software Programs
For those schools and programs that require or promote community service as part of the curriculum, the next step is finding a way to track and verify student volunteer hours. We've put together a list of the top school volunteer software of 2022 for tracking school community service.
Track it Forward
With Track it Forward, your school can track school community service hours in an efficient and affordable way. There's also a variety of school-friendly features, like the mobile app, Clever integration, and our (coming soon!) community service directory and group texting. Administrators can set up milestones to track progress toward community service hours goals.
Students can log their own hours, sign up for events, and view progress on their dashboard, online or using their mobile phones. They can also view and download a Service Resume, which is an official PDF record of their community service hours. There are also advanced options for verifying hours, like selfies, GPS and signatures. Track it Forward can also be configured for parent service hours. For more information on how Track it Forward works for schools, click here.
x2VOL
x2VOL also offers school community service software. x2Vol provides an online and mobile app solution for tracking student volunteer hours only. They have a PowerSchool integration, service goals settings, and volunteer opportunity database. Students can also submit written reflections with their hours logs.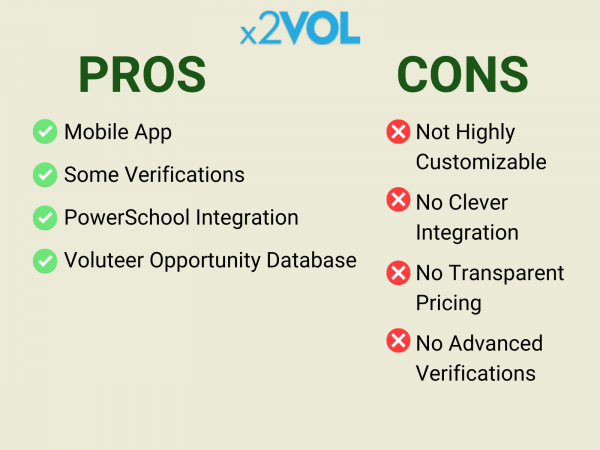 Signup Genius
Signup Genius offers a generalized software solution for creating events and signup sheets. It can be used to manage school community service events for both students and parents depending on how it is set up. Volunteers can sign up for events set up by an administrator, or they can sign up to bring in certain items for an event or donation. In addition, they offer an option to collect donation payments. They also offer text reminders and email communications.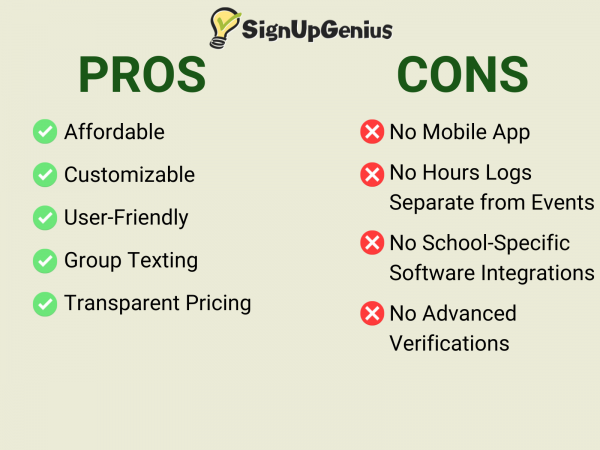 MobileServe
MobileServe offers a volunteer time tracking software solution. They have a web and mobile app that students can use to track volunteer hours. Students can also be required to collect signatures for hours verification. They have a service resume as well as social media integration and leaderboard challenges.
ParentSquare
ParentSquare is a communications and notifications platform designed for parents and schools. It is designed to provide one place for families, schools, teachers, and districts to communicate. It's not specifically designed for tracking volunteer hours, however it does allow for interactive forms which can be used to collect parent service hours data. In addition, events and sign-ups can be added for volunteering and donations.
Choosing the Right Software
There are a variety of options to choose from when it comes to school volunteer software. It's important to take into consideration the type of program you're looking to track. If you're tracking student community service hours without an incorporated service learning program, you may want to look for a software program that offers advanced verifications and a community service directory for students to find verified places to volunteer. If you are looking to track parent service hours, you may want a software program that offers group communication options and an event calendar with RSVPs.
Track it Forward software is highly customizable and offers all of these features for any school community service program. It is also one of the most affordable solutions for the number of features and offers district group plan pricing as well. The best part? You can get started for FREE today!
Learn more about how you can incorporate Track it Forward into the classroom:
For full details and up-to-date info on the software programs listed above, please visit their websites directly.