x
The Real Lives of Volunteer Coordinators
A Blog for us to Learn from Each Other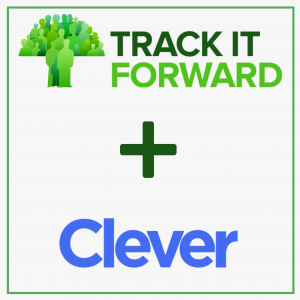 Track it Forward is excited to announce a new integration with Clever single sign-on for education. This integration allows students to log into their Track it Forward account with existing Clever credentials, which makes logging student volunteer hours even easier and more secure.
Track it Forward is the first volunteer time tracking app to be listed in the Clever Library. This new integration will lower the barriers to logging student volunteer hours for schools that are currently using Clever. Not only is it easier for students, who don't have to remember yet another account login, but it's easier for teachers and administrators as well.
The Clever integration will allow for seamless, secure data transfer. Student information listed in Track it Forward will come directly from the Clever rostering system. The data will automatically sync, meaning that students' grade levels and classroom assignments will be updated instantly in Track it Forward when changes are made to the roster.
Who can use this new integration?
The new Track it Forward + Clever integration is for all schools that currently use Clever and are planning to create a new Track it Forward site. At this time, logging in with Clever credentials is not available for existing Track it Forward sites.
This new integration is ideal for schools with student volunteer programs and service clubs. Track it Forward is easy-to-use and student-friendly, allowing students to log in on their laptops or their phones with the mobile app. For more information on how schools are using Track it Forward, take a look at our success stories below!

How it Works
There are several ways for students, teachers, and administrators to access Track it Forward using their existing Clever account.
1. Teachers or Administrators Sign up for Track it Forward
Teachers can quickly and easily sign up for Track it Forward using the Clever Library. Through the Clever Library, teachers can access the Track it Forward app and start their 30 day free trial for their classroom or club project.
For school districts and individual schools that want to set up Track it Forward for the entire school, please contact us for a custom quote.
2. Students Log into Track it Forward with Clever Credentials
Once teachers or school administrators have their Track it Forward sites established, student data will be uploaded from Clever to automatically create the student accounts. Once students have their accounts, they can log in the following ways:
Log in through their Clever portal
Log in using the Track it Forward mobile app
Check in and out at an onsite event using the Track it Forward kiosk app
In their Track it Forward account, students can easily view their progress toward milestones or minimum requirements and past hours submitted. They can also take advantage of our new Service Resume PDF export for future use in applications and more!
3. Teachers and Administrators can Verify, Review and Report
Teachers, administrators, or other program coordinators can verify and review student hours and download instant reports. The advanced verification features can require additional verification in the student hours log, such as a selfie, signature, or GPS location.
These features can help verify any volunteer hours completed off site or at a non-school sponsored event. In addition, multiple hour approvers can be assigned to students; for example one teacher or administrator can be responsible for approving hours just for their specific class or grade. And finally, all the data collected in Track it Forward can be easily segmented and downloaded as a CSV or excel file for reporting purposes.
To learn more about how schools can use Track it Forward, click here!