x
The Real Lives of Volunteer Coordinators
A Blog for us to Learn from Each Other
Technology has never been more ever-present in our lives, and has never been more essential, especially to today's youth. This generation has grown up with touch screens at their fingertips and supercomputers in their pockets, and digital literacy is second nature to most of them. Keep students engaged in the classroom by speaking their language - technology!
Now more than ever, there are thousands of technological and digital resources available to teachers in the classroom. But which ones are the most useful? We're here to help answer that question!
If your school uses Clever, then you've already got access to and are likely using some great apps in the classroom. The Clever Library is a seemingly endless parade of apps, but we are here to help narrow down some of the most useful and popular Clever apps that you can use in your classroom to keep students engaged and interested in learning, while reducing your own workload. Take a look at these Clever apps that offer high-tech ways to engage your students in the classroom!
5 Clever Ways to Incorporate Technology in the Classroom
Track it Forward + Clever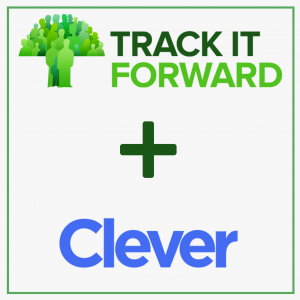 You are most likely already using technology in your classroom, especially if your school uses Clever! Clever apps provide an engaging supplement to students' educational experience. No matter what subject you're teaching or club you're supervising, there's something in the Clever library for everyone. The benefits of logging into these educational apps with Clever include ease of access as well as improved security for students and staff.
If your students need to track community service hours for school, then Track it Forward is the perfect Clever app to use. In addition to easy, on-the-go hours logging, students can submit advanced verifications such as selfies, signatures, or GPS coordinates to verify community service hours no matter where they're completed.
Learn more about how you can incorporate Track it Forward into the classroom: