Features and Benefits
Make it easier for your volunteers to log hours and save time managing them.

Website Embeds
Put the hour tracking system, the registrations, and the graphs all on your own website!

Mobile Phones
Log hours in the field or just on the go. Our mobile website is tailored to make that work!

Reports
All the volunteer hour log data is yours. You can visualize it, export it, and change it on our website.

Accountability
Centrally manage all your volunteers and keep them accountable for their submitted hours.
Perfect for schools, nonprofits, and volunteer organizations

City of Oakland Parks
Municipality
Public Works park supervisor Tora Rocha uses the Track it Forward bulk hours feature to aggregate data from lots of different parks and log hours for large events like Earth Day.

Peachtree Charter School
Middle School
School administrators and council members keep track of mandatory parent volunteer hours necessary to meet charter requirements and aid in applying for grants.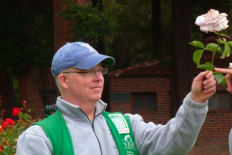 San Jose Rose Garden
Grassroots Organization
Volunteer Coordinator Terry Reilly rewards garden volunteers who track their own volunteer hours. He gives them pins based off the hours they've accumulated on Track it Forward.
Want to see more? Check out some demos of Track it Forward in action. But if you're ready to try it out for free..See Plans